March 2 – 2022-23 Guest Speaker #4
Article written on 2023-02-20 by: Adrian Meseberg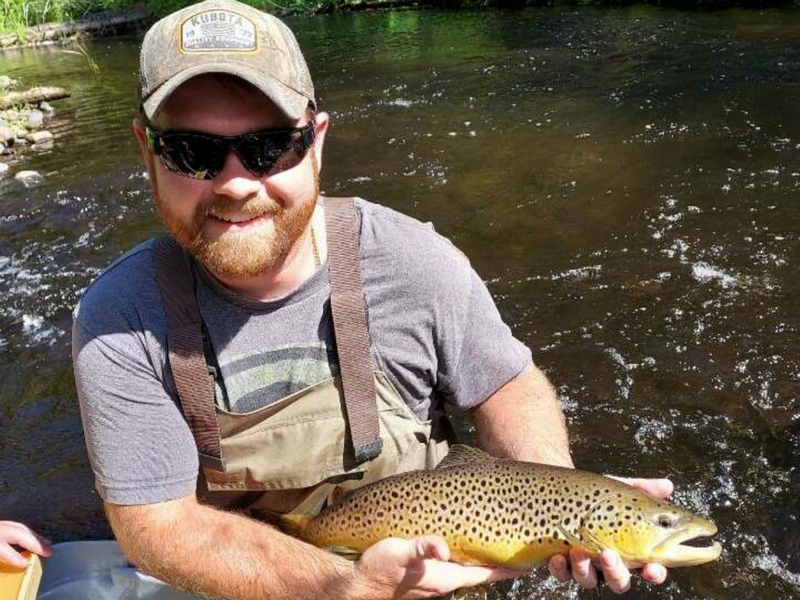 On Thursday, March 2nd we will be hosting Wisconsin Department of Natural Resources (WI DNR) Advanced Fisheries Technician, Taylor Curran. Over the past several years, we have had multiple habitat improvement days with Taylor. During the past two years we helped plant thousands (yes, thousands) of trees along the Prairie River with him.
The tree planting is just one example of stream restoration efforts going on in Langlade and Lincoln Counties. Taylor will be sharing many of the other habitat improvement projects going on in this area. Below is a bit more on Taylor (in his own words) and what he will be presenting to us on March 2nd…
"I'm an Antigo native. I have a Bachelor of Science Degree from the University of Wisconsin Stevens Point in Wildlife Management. I started my career with the Wisconsin Department of Natural Resources in 2012 as a limited term employee funded by Trout Unlimited. In 2018 I became the permit Fisheries Technician Advanced in Antigo covering Langlade and Lincoln counties. Both Langlade and Lincoln counties have an abundance of trout resources; Langlade county has the highest concentration of spring ponds in the world. My position has a heavy trout management focus but also includes fish and habitat management on cool and warm water lakes and streams within the two counties." 
"My presentation will focus on the trout habitat restoration techniques we use in Langlade and Lincoln counties.  This includes channel shaping, spring pond dredging, stream crossings, brush bundling, and vegetation management. I'll briefly hit on our other trout management work;  surveys and a camera creel project. If there's time I'll give an overview of some of my other fish management duties."
2022-23 GUEST SPEAKER MEETING #4 DETAILS BELOW…
Date: Thursday, March 2nd
Time: 5:30p – BOD meeting / 7p – Guest Speaker
Location: Village Grille, 801 Hoffman Rd, Green Bay, WI 54301 (CLICK HERE FOR GOOGLE MAP)
Speaker: Taylor Curran – WI DNR Advanced Fisheries Technician, Antigo Office
Title: Trout Habitat Restoration Techniques in Lincoln and Langlade Counties
Extras: Free Food, Soda and Door Prizes !
Questions: Please contact GBTU President Adrian Meseberg – greenbaytu@gmail.com / (920) 562-6129
(While the 5:30p BOD meeting is for participation by the Board, it is open to anyone who would like to attend)
We can't wait to see you there !!
Thank you for all you do for our coldwater resources !!!