July 26 – Kids' Fishing Day Summary and Pictures
Article written on 2021-07-31 by: Adrian Meseberg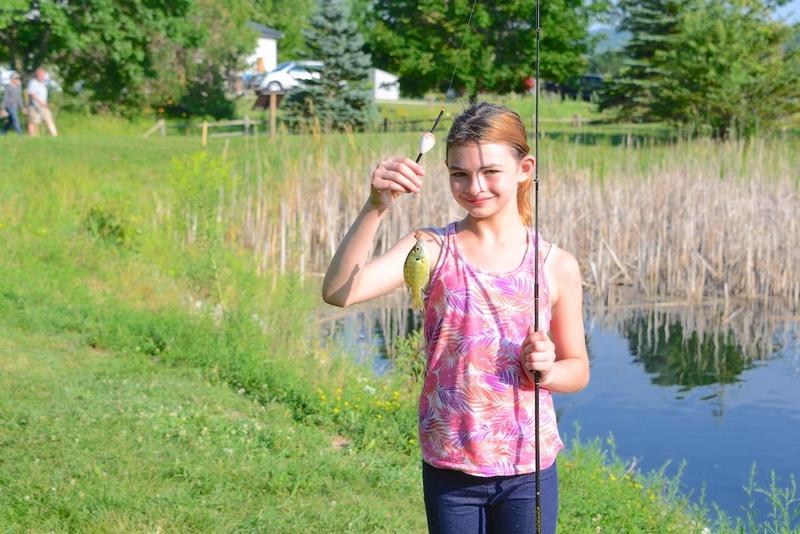 The following summary of the event is from GBTU Ecucation Chair Dave Ostanek…
It has been good to get back to several of our outreach, education, and work projects for Green Bay Trout Unlimited. As we continue to be cognizant and safe during the ongoing pandemic, the chapter has been a part of some education programs this year. July 26, 2021 marked the 29th annual (2020 was cancelled due to the Covid 19 pandemic) Kids Fishing Day put on by the Green Bay Chapter of Trout Unlimited (GBTU), Brown County Health and Human Services Pals program, Green Bay Exchange Club, and the Brown County Izaak Walton League at the Izaak Walton ponds in Bellevue, Wisconsin.
Kids Fishing day provides a great outdoor experience for disadvantaged youth to come out to learn and practice fishing and enjoy a picnic meal with their families and volunteer sponsors.
We had a quick storm pop up at the beginning of the event, but it didn't hold back everyone and as the sky quickly cleared, the kids enjoyed fishing in the sunshine for the remainder of the evening. This year we had about 20 kids and 35 adults, volunteers, and sponsors that came out and fished from 4:00-6:30 pm, catching varieties of fish from bluegill to bass to trout. In between the fishing, our guests enjoyed a picnic dinner of hot dogs, beans, chips, water, soda, and cookies.
Green Bay Trout Unlimited is fortunate to work with several people and organizations that help put on this successful event. We would like to thank the Izaak Walton League for the use of the ponds and help setting up the date. Jamie Chaudoir of the Brown County Health and Human Services led the charge in organizing the youth, families, and sponsors through the Pals program. Thanks also to Kip Boucher of the Green Bay Exchange Club for coordinating and providing the dinner with Festival Foods. The bait and some of the snacks were provided by GBTU and a donation from Thrivent Financial. Several GBTU members came out to help the young fisher folks with baiting, untangling and removing the catch. Thanks to the following GBTU members for coming out and lending a hand: Pat Hill, Bruce Deuchert, Jack Koivisto, Tony Schaut, Jim Vandenbranden, Doug Siedl, Andrian Meseberg, Jon Ostanek, and Dave Ostanek. Friends of GBTU Rick Buntrock and his grandson Landon also helped out.
Thanks to all for a wonderful event.
Thanks

for

all

you

do

for

the

coldwater

resources

of

Northeast

Wisconsin

!!
Check out the pictures below (courtesy of GBTU member Jon Ostanek)…