June 3 – Take-a-Kid-Fishing Day
Article written on 2023-06-07 by: Adrian Meseberg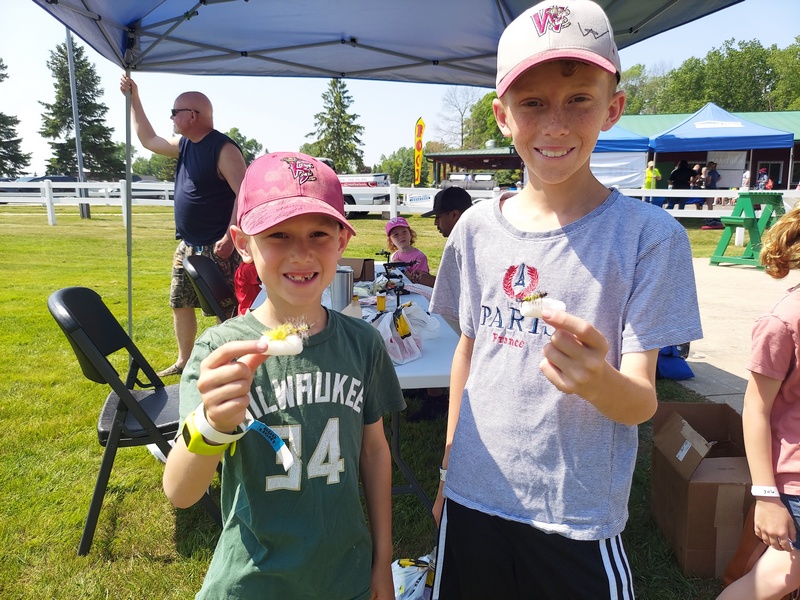 Green Bay Trout Unlimited (GBTU) was invited to be part of the Outagamie County Conservation Club's (OCCC) Take a Kid Fishing Day around six years ago. We have been there ever since and it has been an incredible partnership !!
Gordy Schroeder and the OCCC have been the brains behind the event. It is a kid's fishing day that is filled with prizes, food, and fun. Kid's receive gifts for catching tagged fish, there are big fish contests for multiple different species of fish (prizes given to the top 3 in each category), there are random drawings and much more.
Last year set the new record for kids signed in at the event with 317. This year that record was broken with, at least, 333 kids. The weather was warm (81 degrees at 11a), but that did not stop the kiddos from having a great time.
GBTU's role as been to teach people about our mission, and the amazing work we do. We do this all while teaching kids, and some adults, how to tie flies and cast a fly rod. This is the first time almost all of the participants have tried fly tying and/or fly casting. You can see the pride and happiness on their faces when they are able to take their first fly home or landing a cast using a tool they have probably never held before that day.
GBTU's volunteers included Dave Ostanek, Jonathan Gutierrez (plus Jon's son, Junior), and myself (Adrian Meseberg. A big thanks guys for making people's days a little brighter.
A huge thanks to Gordy and OCCC for having us out again this year. We will be looking in our inboxes for our invitation for next year as well !!